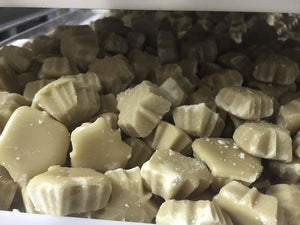 Soft Maple Sugar Shapes
Commonly known as Maple Candy, soft maple sugar shapes are made by boiling down maple syrup, stirring it, and pouring it into molds to harden.  Maple candy comes in all shapes and sizes but you will most often find it formed into the shape of a maple leaf.  This delicious pure maple product melts in your mouth and releases a rich maple flavor almost like fudge.  Every year, at festivals and sugar shacks across the country, maple candy is a staple treat.
Special note:  Maple candy may melt some during shipping in warmer temperatures and  packaging container may vary.  Shipping packages can get "tossed" around, so the shapes may not look picture perfect, but they will still taste delicious!