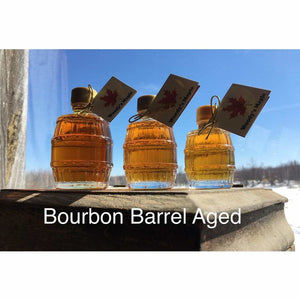 Bourbon Barrel Aged Maple Syrup (Barrel)
BOURBON BARREL AGED MAPLE SYRUP
Pure maple syrup goes well with so many different flavors, and one of the most delectable pairings is maple and bourbon. Woody's Maple celebrates this exquisite combination with our Limited Edition Bourbon Barrel Aged syrup.
First, pure maple syrup is aged in barrels to absorb the flavor of bourbon. Then it is bottled in our sugar house in Hermon, New York. The elegant packaging of this unique syrup is designed to reflect the superb quality of the product within.
Bourbon maple syrup can be enjoyed in many ways. The simplest uses are to pour it straight over waffles, ice cream, peaches or oatmeal, and recipe ideas include Maple Bourbon Fruit Salsa, Maple Bourbon Grilled Pineapple, Maple Bourbon Bacon, and Maple Bourbon Mustard.
Note:  Bourbon Barrel Aged Maple contains up to 2% alcohol.